SCRIPTURAL FOUNDATION
2 CORINTHIANS 1:21-22

21Now it is God who makes both us and you stand firm in Christ. He anointed us, 22set his seal of ownership on us, and put his Spirit in our hearts as a deposit, guaranteeing what is to come.
Marked Men For Christ™ ministry is all about providing an experience and format to allow Christian men to develop a deeper more powerful relationship with; Jesus Christ, the Holy Spirit and God. When you work, you will eat. Men, this is your opportunity to do some "work" to get filled up with our Lord's eternal food & water to satiate you for the rest of your life (John 6:27)–as a follower of Jesus Christ! If you sense the Holy Spirit moving you to learn more or to sign up for a MMFC weekend — don't wait – pray about it — DO IT NOW!
---
Over 9,000 Christian men from over 2,000-churches have had a trans-formative experience (see TESTIMONIES)! ARE YOU READY?
---
It begins with a 44-hour WEEKEND experience with other Christian men. You can expect a powerful, intense, enlightening and loving weekend of discovery. Men, who have attended a Marked Men For Christ weekend thinking that they have "completed" all of their work were surprised at what the Holy Spirit revealed during their weekend.
---
Following your MMFC™ Phase 1 weekend; will have the opportunity to continue your journey in weekly Phase 2 SOUL GROUPS™. SOUL GROUPS™ allow you to continue your personal Spiritual growth with a band of Christian brothers who you now trust due to your shared common weekend experience. The SOUL GROUPS™ follow a protocol of experiential learning and scripture. The introductory SOUL GROUP™ lasts for 2-hours per week for 10-weeks. The advanced MMFC™ Phase Three SOUL GROUP™ provides you the ongoing opportunity to continue drawing nearer to God.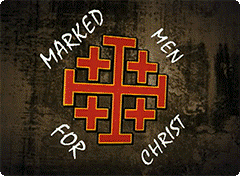 Phase 1: 44-hour Outline — Click Here